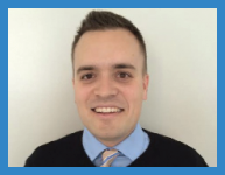 Hi, I'm Nick! I was born and raised in California, and moved to Salt Lake City in 2004 to finish my studies. After graduating from Utah Valley University in 2008, I worked professionally in electrical distribution and sales. In 2012, I was accepted into Westminster College's Master of Professional Communication program and graduated in 2014. In 2013, I changed careers into marketing and currently work for a fast-paced, high growth technology company, creating messages and campaigns to increase our footprint in what is considered a very crowded space. My thesis project for my master's degree was a new hire training manual and a sales training program designed for technology professionals.

My passion in education stems from my ability to convey meaningful and relevant  messages through a vast array of mediums, including today's overwhelming world of social media and Internet availability. My profession in marketing has allowed me to become a better writer and more aware of grammatical style and structure. I enjoy translating meaning from complex pieces of writing to make sense of material that is otherwise complicated to understand. As a kid, I struggled with various subjects and had a hard time finding my niche in academia. Once I started writing and reading more, I discovered that what I wanted to focus my efforts on was becoming the best writer I could be. I have translated that experience into my professional work and was able to really hone my skills as a graduate student, having submitted multiple, original pieces and excelling in my coursework, graduating with a 3.9 GPA overall.

When I'm not at work or playing with my 3 kids, I love to shoot hoops and work on home projects. I am also a big NBA fan and root for the Utah Jazz and Sacramento Kings!