The ACT is a key milestone in the pursuit of higher education and as such it is essential to give yourself the best chance at success. Your score can help you decide where you apply to college, and can be a major factor in where you are accepted. Here at Totally Tutoring we have tutors ready and waiting to help you boost your score on the upcoming test.
Tutors at Totally Tutoring have diverse backgrounds, which enables us to supply you the best opportunity for improving your score. We have experts in math, science and English, and are familiar with the latest updates to the test. Our writing specialists are equipped to guide you through the writing portion of the test so come test day you are ready to go.
Our tutors will work with you on basic concepts, practice tests, and will go over difficult questions to ensure you understand where you went wrong and where you went right. Acing a test can be as much about familiarity with its format as it is about mastering the concepts. By studying with a tutor, you will know exactly what you are walking into the day of the test.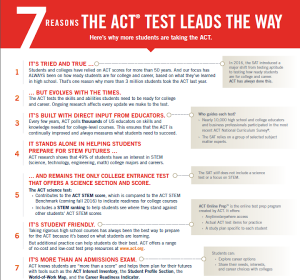 By doing well on the ACT you can be assured you are ready for the next step in your education. Backed by a wealth of education research, the ACT is the best determinant for your college readiness. Let Totally Tutoring help you on your journey to higher education.